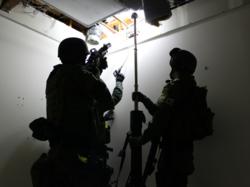 Vista, CA (PRWEB) May 16, 2013
FoxFury Lighting Solutions will display its portable, rechargeable LED area lights and spotlights at the Police Fleet Expo-Southwest (PFE-Southwest) next week in Fort Worth, TX. These quick deployment scene lights can be be mounted inside a vehicle of any style and travel to places where generator powered lights cannot.
FoxFury first developed its original Area-Spot light back in 2008 and released what is now known as the Nomad Prime in 2010. This light was unique in that it was self-contained and could be used as both a wide beam area light and as a focused spotlight. This versatile light uses CREE LED technology and was rechargeable, portable and could stow or deploy in 20 seconds.
The Nomad Prime has proven to be a strategic lighting tool for firefighting, law enforcement, industrial and photographic applications. In the field of law enforcement, niche lighting applications for the Nomad include SWAT, checkpoints / inspections and crime and accident scenes.